Products
Welcome to our products page which provides you with a general listing of the main timbers we supply together with a summary of the various options that are available for each – such as sizes, grades and certifications.
From random width to fixed width lumber, from boules to beams, from decking to cladding, from laminated blanks to machined profiles, from modified softwood to thermo-treated hardwood, we've got it covered.
Most of these products can be ordered for prompt delivery from our storage facility near Liverpool. Alternative purchase options include consignment/call off deals or bulk purchases ex quay/ex ship and direct from source. With the largest single stock holding of imported hardwoods and premium grade softwoods in the UK we are the number one supplier to the trade.
If you are interested in our latest offers, please look at our offer page or alternatively contact our qualified sales team who will be happy to discuss your specific enquiries.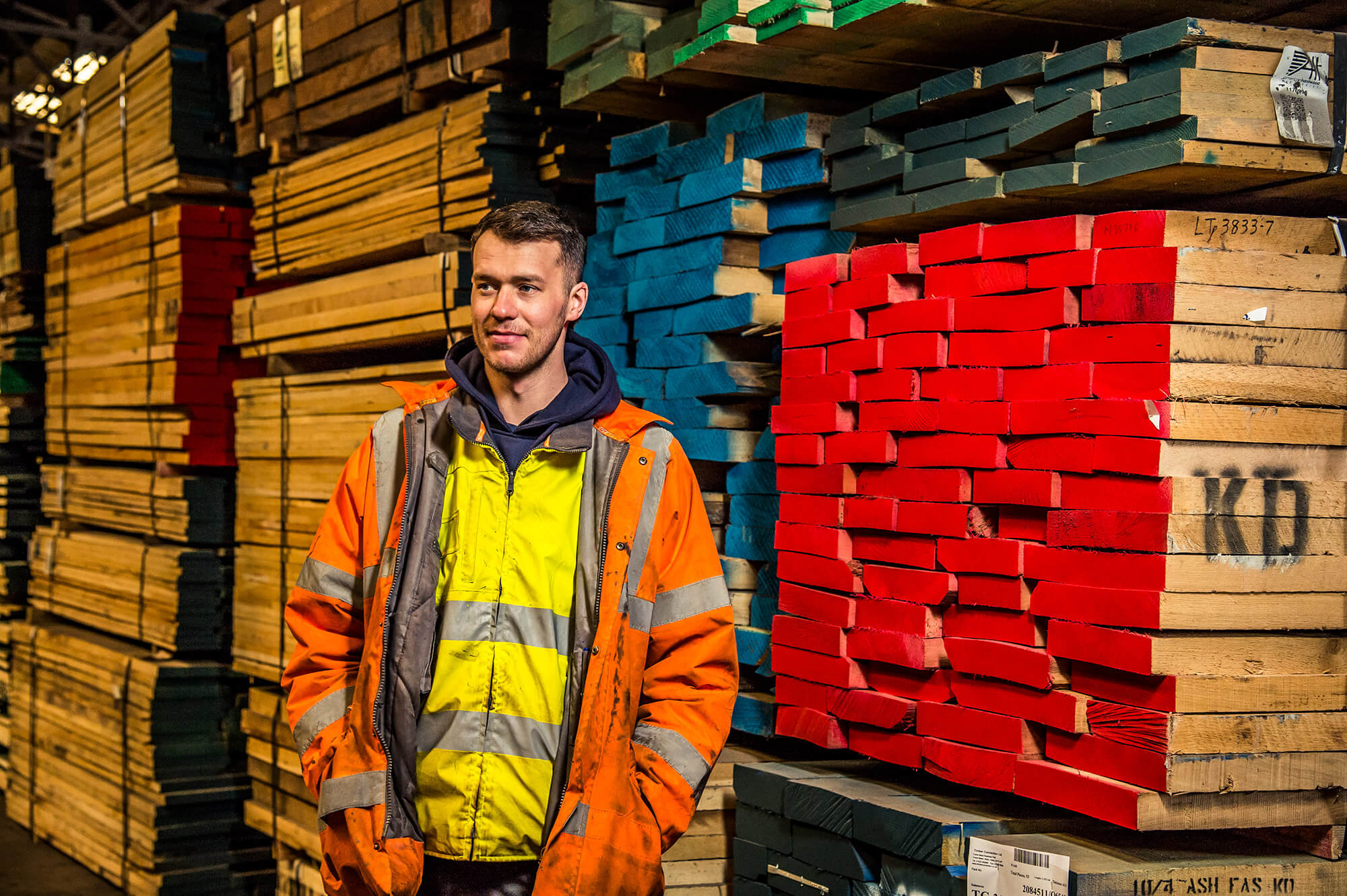 European Hardwoods
Specie
Grades
Thicknesses
Widths
Lengths
Origin
Certifications
Comments
Ash k/d
Prime. Selected/Unselected for colour
26mm to 80mm
100mm & wider
2.1m & longer
Croatia
FSC and PEFC
Landed stock
Mixed loads direct from origin
Beech k/d
Superior/Prime. Steamed/Unsteamed/CND
26mm to 80mm
100mm & wider
2.1m & longer
Germany and Croatia
FSC and PEFC
Landed Stock
Surfaced or full sawn options
Oak k/d
Superior through to Rustic including some French grades
26mm to 100mm
100mm & wider, fixed widths
2.1m & longer, shorts (1.0m to 2.0m)
Eastern European, mostly Croatia/Hungary
FSC and PEFC
Landed Stock over 1000m3
Mixed loads direct from origin
North American Hardwoods
Specie
Grades
Thicknesses
Widths
Lengths
Origin
Certifications
Comments
White Ash k/d
Prime Export (FAS/FAS 1F)
1" to 4"
6" & wider, 10" & wider, fixed widths
8' & longer
Northern, Middle and Southern Appalachian
FSC
Landed stock - top producers. Also cater for full containers direct from origin/on water
Black Cherry k/d
Prime Export (FAS/FAS 1F), Steamed, Colour sorts allowing less sap.
1" to 3"
6" & wider
8' & longer
Northern Appalachian
FSC
Landed stock
Maple k/d
Prime Export (No.1 & 2 White) and Brown Maple
1" to 3"
5" & wider, 9" & wider
8' & longer
Northern Appalachian
FSC
Landed stock
Red Oak k/d
Prime Export (FAS/FAS 1F), Coffin Grade
1" to 3"
6" & wider, 10" & wider, 12" & wider coffin boards
8' & longer
Northern and Southern Appalachian
FSC
Landed stock
White Oak k/d
Superior, Prime Export (FAS/FAS 1F), No.1 Common & Selects, No.2 Com.
3/4" to 4"
6" & wider, 10" & wider, fixed width
8' & longer
Northern, Middle and Southern Appalachian
FSC
Landed stock over 2,000m3.
Full containers direct from origin/on water
Poplar k/d (Tulipwood)
Prime Export (FAS/FAS 1F), colour sorts and paint grade
1" to 4"
6" & wider, 10" & wider, fixed widths
8' & longer
Middle and Southern Appalachian
FSC
Landed stock.
Full Containers direct from origin/on water
Black Walnut k/d
Superior, Prime Export (FAS/FAS 1F), FAS/Walnut grade. Steamed
1" to 4"
5" & wider, 10" & wider, 13" and wider
8' & longer
Northern and Middle Appalachian
FSC
Landed stock. Substantial range of product.
Full Containers direct from origin
West African Hardwoods
Specie
Grades
Thicknesses
Widths
Lengths
Origin
Certifications
Comments
Ayous k/d
FAS
25mm to 50mm
100mm & wider, fixed widths
2.1m & longer, fixed lengths
Cameroon
FSC
Landed stock.
Full containers direct from origin/on water
Idigbo k/d (Framire/Emeri)
FAS
Plus laminated/finger jointed blanks
25mm to 100mm
150mm & wider
2.1m & longer
Ghana, Ivory Coast
FSC Controlled Wood
Landed stock.
Full containers direct from origin/on water
Iroko k/d (Odum)
FAS, waney edged boules
25mm to 100mm
150mm & wider, 250mm & wider, fixed widths
2.1m & longer
Ghana, Ivory Coast, Rep. of Congo, Cameroon
FSC
Landed stock.
Full containers direct from origin/on water
Sapele k/d
FAS, square edged boules, plus laminated/finger jointed blanks
25mm to 100mm
150mm & wider, fixed widths, wide boards
2.1m & longer
Rep. of Congo, Cameroon, Ghana
FSC, VLC/OLB 3rd Party Verified
Landed stock.
Full containers direct from origin/on water
Utile k/d (Sipo)
FAS
25mm to 100mm
150mm & wider
2.1m & longer
Rep. of Congo, Cameroon, Ghana
FSC
Landed stock.
Full containers direct from origin/on water
Wawa k/d
FAS
25mm to 50mm plus Coffin Boards.
100mm & wider, fixed widths
2.1m & longer, fixed lengths
Ghana
FSC Controlled Wood
Landed stock.
Full containers direct from origin/on water
Far Eastern Hardwoods
Specie
Grades
Thicknesses
Widths
Lengths
Origin
Certifications
Comments
Yellow Balau a/d
Standard & Better, decking profiles
21mm/28mm
145mm only
8' & longer
Indonesia
FSC, SVLK, FLEGT
Landed stock.
Full range of decking profiles and accessories. Full containers direct from origin
Jelutong k/d
Select & Better
1" to 4"
6" and wider, 9" and wider
8' & longer
West Malaysia
PEFC
Landed stock
Keruing a/d
Standard & Better, plus machined half lap for truck beds
7/8" to 3"
6" only
8' & longer
West Malaysia
PEFC
Landed stock.
Full containers direct from origin
Dark Red Meranti k/d
Select & Better, plus A grade mouldings
1" to 4"
6" and wider, 9" and wider, fixed widths
8' & longer
West Malaysia, Indonesia
PEFC, SVLK, FLEGT
Landed stock of sawn and mouldings.
Full containers direct from origin/on water
North American Clear Grade Softwoods
| Specie | Grades | Thicknesses | Widths | Lengths | Origin | Certifications | Comments |
| --- | --- | --- | --- | --- | --- | --- | --- |
| Western Red Cedar Green k/d | No.2 and No.4 Clear & Better, plus roofing Shingles and Ridges | 7/8" to 4" | Fixed widths: 4"/6"/8"/10"/12" | 6' & longer | British Columbia | PEFC | Landed stock. Full containers direct from origin |
| Douglas Fir | 85/15 Clear & Better | 1" to 4" | 6" and wider, fixed widths | 6' & longer | British Columbia | PEFC | Landed stock. Full containers direct from origin |
| Hemlock | 85/15 Clear & Better, Vertical Grain | 1 1/4" to 4" | Fixed widths, including squares | 6' & longer | British Columbia | PEFC | Landed stock. Full containers direct from origin |
| Southern Yellow Pine k/d | SAPS, Prime & Better | 1" to 3" | Fixed widths: 6"/8"/10"/12" | 6' & longer | Southern Appalachian | N/A | Landed stock. Full containers direct from origin |
European Softwoods
| Specie | Grades | Thicknesses | Widths | Lengths | Origin | Certifications | Comments |
| --- | --- | --- | --- | --- | --- | --- | --- |
| Siberian Larch k/d | 4ths, Sawfalling, Unsorted | 25mm to 50mm | Fixed widths: 100mm/125mm/150mm/175mm/200mm/225mm | 3.0m & longer | Siberia | FSC and PEFC | Landed stock. Full containers direct from origin |